Hello and welcome to 6W website page. 
The adults working in our class are: 
Miss Wilson

Mrs Wardle 

Miss Colbran

Mrs Hill
We also work very closely with: 
Mrs Oldroyd

Miss Birch

Miss Tait

Miss Wilson (Art teacher)
Year 6 have worked very hard this half term and we are very proud of how they have applied themselves during our End of Key Stage Tests.
We are currently working on our leavers production 'Pirates of the Currybean' and completing many transition activities to prepare the children for high school. Our production dates are: 
- Mon 27th June (1:15)
- Wed 29th June (6:00)
- Thu 30th June (9:30)
There is also a final year 6 only assembly on Friday 1st July (9:15). 
We hope to see you there! 
We have also implemented a new reward system for the children where they can earn stamps for excellent behaviour and effort in class. They hope to earn enough to go bowling and Pizza Hut, the cinema and many more fun activities. 
Rocket Seeds
This week year 6 received rocket seeds from Tim Peake (who is the British astronaut currently on board the ISS). Some of the seeds have been to space with Tim and some have not. We have set up an investigation to find out if the seeds grow differently and look forward to the results. 
Which seeds have been to the International Space Station?  
Tim Peake and our rocket seeds!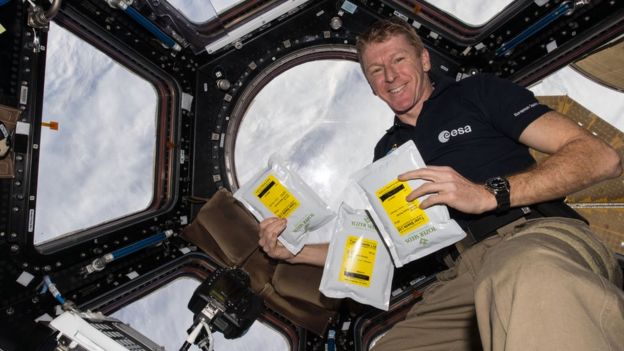 Easter Egg Competition
The children in 6W have been busy at home creating some egg-cellent eggs for our competition. A huge well done to Reagan - the 6W overall winner. 
Science
In our science lesson today we investigated blood! We found out what is in our blood and the jobs that they do. We then created 'blood soup' to show the red blood cells, white blood cells, plasma and platelets.  
Sport Relief
We had a lot of fun raising money for Sport Relief. We dressed up in our sporty clothing and ran a mile around the playground. We also had fun on the obstacle course. 
Conscience alley
During a drama lesson we conducted a conscience alley. This is where the children are either for or against a point of view and try to convince others to agree with them. This was linked to our current novel 'Friend or Foe' by Michael Morpurgo as the main character David had a very difficult decision to
make - should he help the German pilot or not? 
World Book Day
We had a lot of fun dressing up as well known characters from books. Don't you think our costumes are fantastic? 
Library Visit
The children in 6W went to the library on Monday 18th January. We had a good look around the facilities and all selected a book we really wanted to read. We have brought the books back to school and look forward to reading them. 
Healthy Schools Week
This week we are working on what it means to be healthy. We are going to be tasting some healthy snacks in class and attempting to do at least 60 minutes of exercise per day. We have participated in a Zumba lesson and plan to do yoga in class everyday. As well as this, we will be investigating how a healthy lifestyle can benefit our minds and bodies during our science lessons. 
Marvellous mathematicians
Working hard to understand the order of operations. 
Welcome back, we hope you have all had a wonderful Christmas break.
This half term the children will be starting a topic about the Maya Civilisation.
In English, we are focusing on newspaper reports linked to a twist on a traditional tale. We will move onto extended poetry later on in the half term. 
In maths, we are going to be focusing on fractions, decimals and percentages for the next few weeks. 
Christmas Jumper Day
Check out our awesome Christmas jumpers. 
Flying Rockets
On the day that Tim Peake went into space, year 6 flew their very own rockets. They were amazing and flew so high! Check out the videos below.  
Blast Off!
Up, up and away!
We have lift off!
Say hello to the school's new engineers and astronauts. This week year 6 have been making our very own bottle rockets to fly into space. As well as this, we have been working extremely hard on
up-levelling a fictional letter. Also, some children are currently at Herd Farm - we hope they are having fun!
Rocket Building
Anti-Bullying Week - Make A Noise About Bullying
In 6W we have discussed and researched bullying and came up with the slogan 'Banish Bullying!'. We then looked at the theme 'Make A Noise About Bullying'. The children decided to make 'loud' posters about anti-bullying using graffiti and bright colours. We have also made a video about bullying.
What do you think?   
Events.mp4
Video edited by Adam, Amy, Alyssia and Bethany. Well done!
This week year 6 have continued to work on the Astro-science challenge. Well done to the children who have been working on this at home. During our English lessons we have created 'alien' creatures to write non-chronological reports about. 
Astro-Science Challenge
This week the children have been exploring planets during our topic lessons.
We have created rhymes to help us remember the order of the planets.
Here is an example: 
My (Mercury)

Very (Venus)

Energetic (Earth) 

Minion (Mars) 

Just (Jupiter)

Screams (Saturn) 

Until (Uranus) 

Naptime (Neptune) 
We also compared the size of the planets and explored how they move around the Sun. 
This week year 6 have been writing persuasive letters to try and convince the teachers that they do not need homework or that they need more homework. They have used persuasive phrases to do this. For World Maths Day the children played challenging maths games on mathletics and attempted very tricky problems in class.
Cycling with The Works
10 children were selected to have a special day with The Works. They were chosen based on their behaviour and attitude towards school this year. They had loads of fun 
!
During Black history week we made a class PowerPoint about Jesse Owens. We shared this with the rest of the school during an assembly. 
This week year six have completed their Stories With Suspense! They have worked very hard to include a spooky atomosphere and use figurative language. We have also continued our work on WW2 in our topic, computing, music and guided reading lessons. 
Here are a few sentences from our stories this week: 
Pouncing out of her bouncy bed like a proud panther, her feeble heart was almost bursting out of her chest. (Omolara)
She suddenly dropped to the ground in fear as she contemplated whether she would have time to bellow, battle or sprint away. (Keegan)
Due to the fact that she was extremely terrified, her legs began to shake like jelly. (Honey)
Gingerly opening the door, Ben feared for his life. (Owen)
A huge well done to 6W for their fantastic class assembly all about World War 2! Amazing acting and super singing from everyone! 
Atlas Work
Exploring atlases to locate cities that were targeted during The Blitz. 
South Leeds Academy Visit
The children in year 6 really enjoyed their recent trip to South Leeds Academy. They impressed us all with their outstanding behaviour and positive attitude throughout all tasks. We got to experience some 'taster' lessons such as: Geography, History, Science and French.  
Please log onto the websites below. These websites provide fun and exciting games to help your child at home.